Bangs Towing, Your Equipment Transporting Specialist.
Voted Best of Long Island 2023
Our Fleet of 20 trucks guarantee the best & fastest service across Long Island!
ESTABLISHED 1969
Towing Hours:
24 Hour Towing & Recovery
Office Hours:
Mon-Fri 9AM TO 4:30PM
Sat By Appointment ONLY
Sun CLOSED
Phone:
(631) 842-2922
TOWING & RECOVERY SERVICES
We offer 24/7 around the clock towing and recovery services! Our fleet of 20 trucks can handle all of your needs, whether it be a simple fender bender, vehicle & boat transportation, vehicle stuck on the beach, or a heavy semi truck & trailer that needs a tow! Call us today for unmatched Towing and Recovery Services!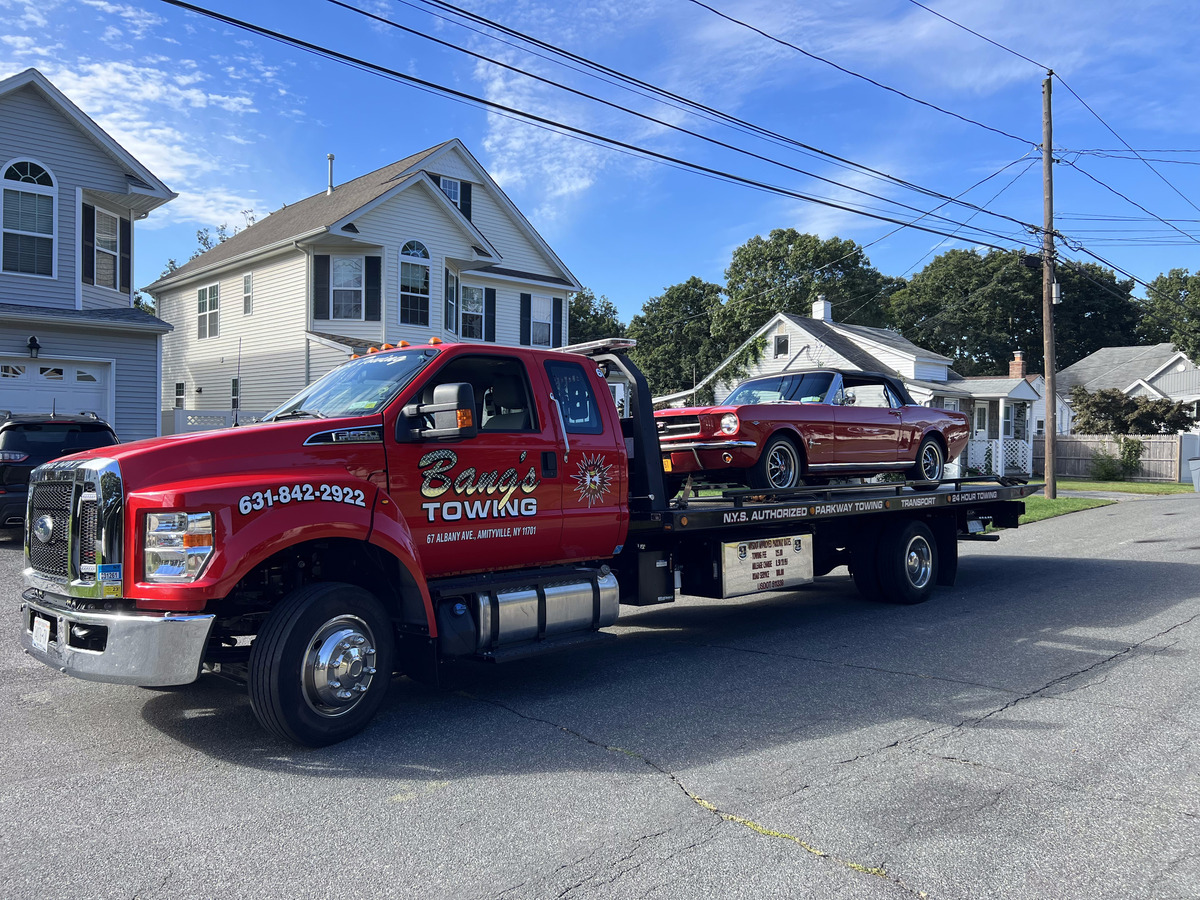 "I had a great experience with Frank! I got myself in a very difficult situation and got my car stuck on a Boulder, and he was able to get it off beautifully without a scratch even tho it took him forever. It was hard and he wouldn't leave until he figured out a way to get it off, I highly recommend this company. Price was very good too, I'm so thankful for you guys!"
"Twice I have needed a tow for my Tahoe. And Twice Bangs Towing came to my rescue. Both times they arrived quickly after placing a call for their response. Their drivers were courteous, honest, professional, and genuinely concerned for the customers satisfaction and safety. The drivers listened to my questions and concerns and answered and reassured me about my vehicle. I highly recommend Bangs towing for your automotive needs. Especially roadside when you break down, need a tire change, or have an accident."
"Camilo from Bang's Towing was awesome!!! He arrived prior to the estimated arrival time and professional as well as down to earth. Camilo made the experience so much less stressful! I will absolutely recommend to all my family and friends! Thank you!"
"Very happy with the prompt service. Add a truck to my home within a half an hour I called that excellent. Luis the driver was exceptionally professional and courteous. He actually showed he cared for my vehicle. Would highly recommend them if you are in need of a tow or a flatbed."
"I locked my keys in my car in the middle of nowhere and my App was not working to unlock them. I contacted Bangs Towing and was informed they had a driver on the way. They sent a Gentlemen named Luis and he was there in a flash. Luis was courteous and funny, he made this unfortunate event not so bad anymore. Factory settings made this lockout a little tough, but Luis made it look easy and assured me we were getting in this car. He popped the lock and I was free. Luis is a Professional in his trade and I truly appreciate the help! Thank you all!"
"Car broke down and after calling Geico Roadside Assistance got a call from Bangs right away. They were running late but called to tell me. Car was dropped at my mechanic and repaired by 9 am the next morning. Couldn't have gone smoother."
"I had a great experience with Frank! I got myself in a very difficult situation and got my car stuck on a Boulder, and he was able to get it off beautifully without a scratch even tho it took him forever. It was hard and he wouldn't leave until he figured out a way to get it off, I highly recommend this company. Price was very good too, I'm so thankful for you guys!"
Proud to have won best of long island 5 years in a row